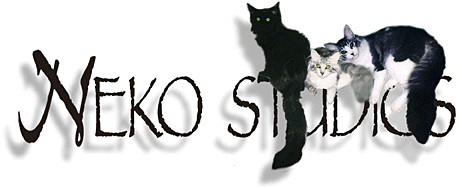 Remember that everything here is copyrighted and may not be reproduced in any form
without dire karmic consequences.
Meanwhile, have a good time. - Neko Studios.





And for those of you who don't want to futz around, here's an quick link index to graphics in this gallery.

TEXT ONLY? Sorry, this site contains graphics, graphics, and more graphics.
For best viewing: Turn OFF link underlining,
and specify a sans serif font such as TEKTON or HELVETICA, preferably 14pt.