FOXTAIL BOOKS and John Ammirati may be contacted by fax at 415 587-2401 if you are interested in obtaining a copy of
escapades: A Journal of Art Events


escapades chronicles the aventures of several performance art trouble makers, including Peter Froehlich, Keith Muscutt, Philip Hofstetter and Rama Lama. What follows is another excerpt from the book (reproduced with permission. words copyright John Ammirati / photo copyright Peter Froehlich):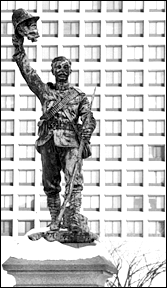 The Improved Boer War Memorial 1977
The Boer War Memorial is a statue in Confederation Park in Ottawa, depicting a war torn but proud Canadian infantryman returning home victorious from the bloody South African War, his helmet raised in salute. The Improved Boer War Memorial is the same statue, in the same park, but with one important difference: stuck in the soldier's raised helmet is the decapitated head of an African.

The original memorial was improved overnight; however, preparations for the change had been underway for months. Peter Froehlich had coaxed Canadian artist Nicola Kozakewicz to accept the difficult commission of creating a new head which would exactly fit and blend into the weathered Memorial. Kozakewicz scuplted and painted in such perfect tromp l'oeil that, once installed, the Memorial remained "improved" for some time. One day, however, the African head was removed, with great difficulty, by the authorities.

The created an unforseen problem. Certain people complained about the "vandalization" of the statue. As the issue heated up, articles appeared in the Ottawa Journal demanding that the head be restored and calling the vandalism "an insult to the memory of The British Empire and an affront to the people of Ottawa."

A fund for restoration of The Improved Boer War Memorial was begun and monies were sent to The Royal Canadian Legion for the purpose. The Legion acknowledged with perplexity that there appeared to be some misunderstanding in the matter but deferred jurisdiction to The Capitol Planning Commission.

As of this writing, the Improved Memorial has not been restored and the helmet remains headless.


---
Newspaper clippings from the Ottawa Journal describe the vandalization and picture the Improved Boer War Memorial "in happier times."
Snubbed!
Infantryman loses his head and nobody seems to care
by Nick Hunter Journal Reporter

What further indignity can be inflicted upon the memory of the British Empire?

This latest snubbing of the Union Jack, this outrage, perpetrated only a rugby field's distance from the Lord Elgin Hotel, has been ignored by our federal authorities.

The Boer War memorial statue in Confederation Park has been desecrated.

The African head, for so long held proudly aloft by one of Lord Kitchener's brave infantrymen, was broken off the statue last week.

And a spokesman for the National Capital Commission, which is responsible for maintenance of the statue, said Wednesday the head will not be replaced. And -- cover your ears Lord Kitchener -- there will be no attempt to track down the dastardly vandals.

Not only the British Empire has been insulted. It is an affront to Ottawa. The statue, a memorial to the Ottawa volunteers who died in the Boer War, was unveiled in 1902 and is part of this city's heritage.

Purchased by pennies from 30,000 Ottawa school children, the statue was moved to Confederation Park in 1969 from land where the National Arts Centre now stands.

Outraged citizen Peter Froehlich, director of the drama guild at the University of Ottawa, is after the NCC to repair the statue. "But no one seems to care, " he lamented Wednesday.

"It was the one emblem which clearly identified the ideals for which 5,000 Englishmen gave their lives," Mr. Froelich said in a moving letter to the editor.

"The National Capital Commission has taken the position that it will do nothing to restore the monument to its former glory, but will allow it to remain headless.

"Are these the custodians of our national heritage?"

Mr. Froehlich has called upon "all Canadians with a sense of honor and tradition" to demand the replacement of the head and an investigation "to discover the perpetrators of this mindless decapitation."

(from the Ottawa Journal January 13, 1977)