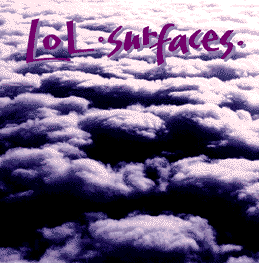 LOL surfaces was released in 1985. All but one of the compositions were written, arranged and produced by Lol Halsey, who spent seven years creating this evocative instrumental work. The effort was rewarded when the album was nominated for a 1986 BAY AREA MUSIC AWARD (BAMMIE) in the category of Outstanding Debut Album. He didn't win, but he was in good company: Fellow nominee Chris Isaak didn't win either.

This album was also the catalyst for the formation of NEKO Studios, which published it in cassette and LP formats. We are currently working on re-issuing this work with additional material as a CD. If we add sound to this site, we'll start here.

For those of you who still appreciate vinyl (in this case VIRGIN vinyl), we have a limited number of LPs available from the initial issue. Contact Neko Studios for details.
The cover is adapted from a photo by Lol Halsey.